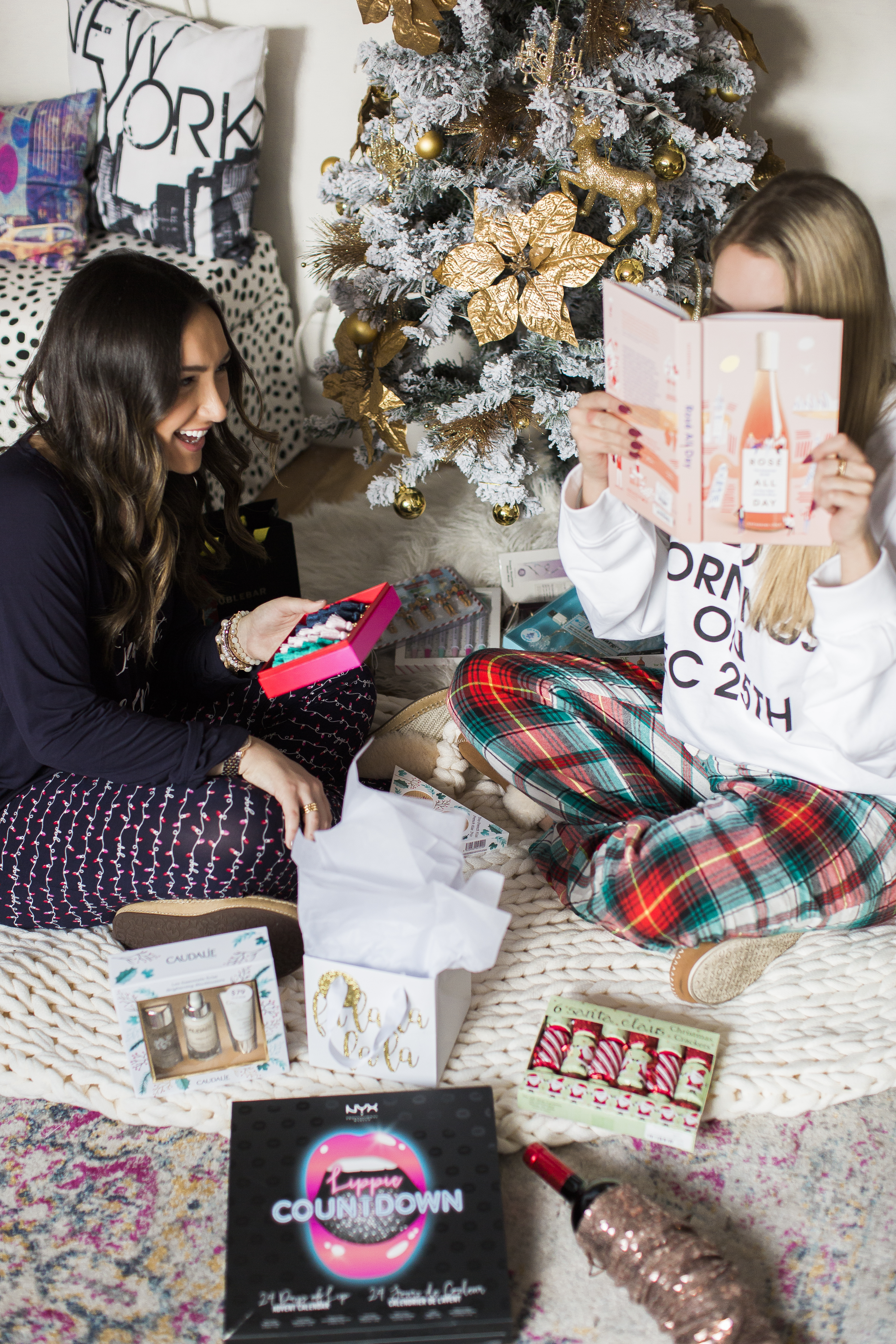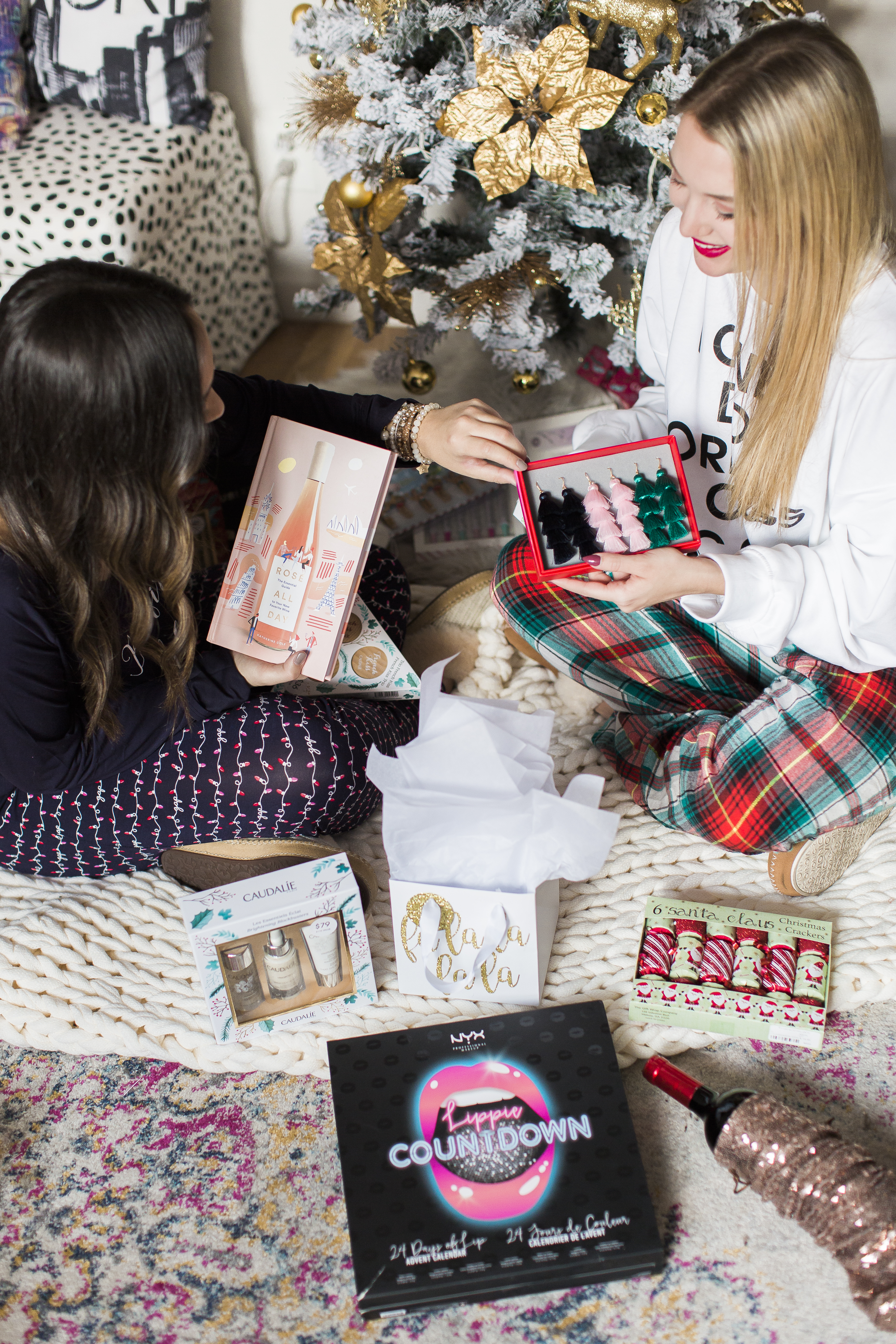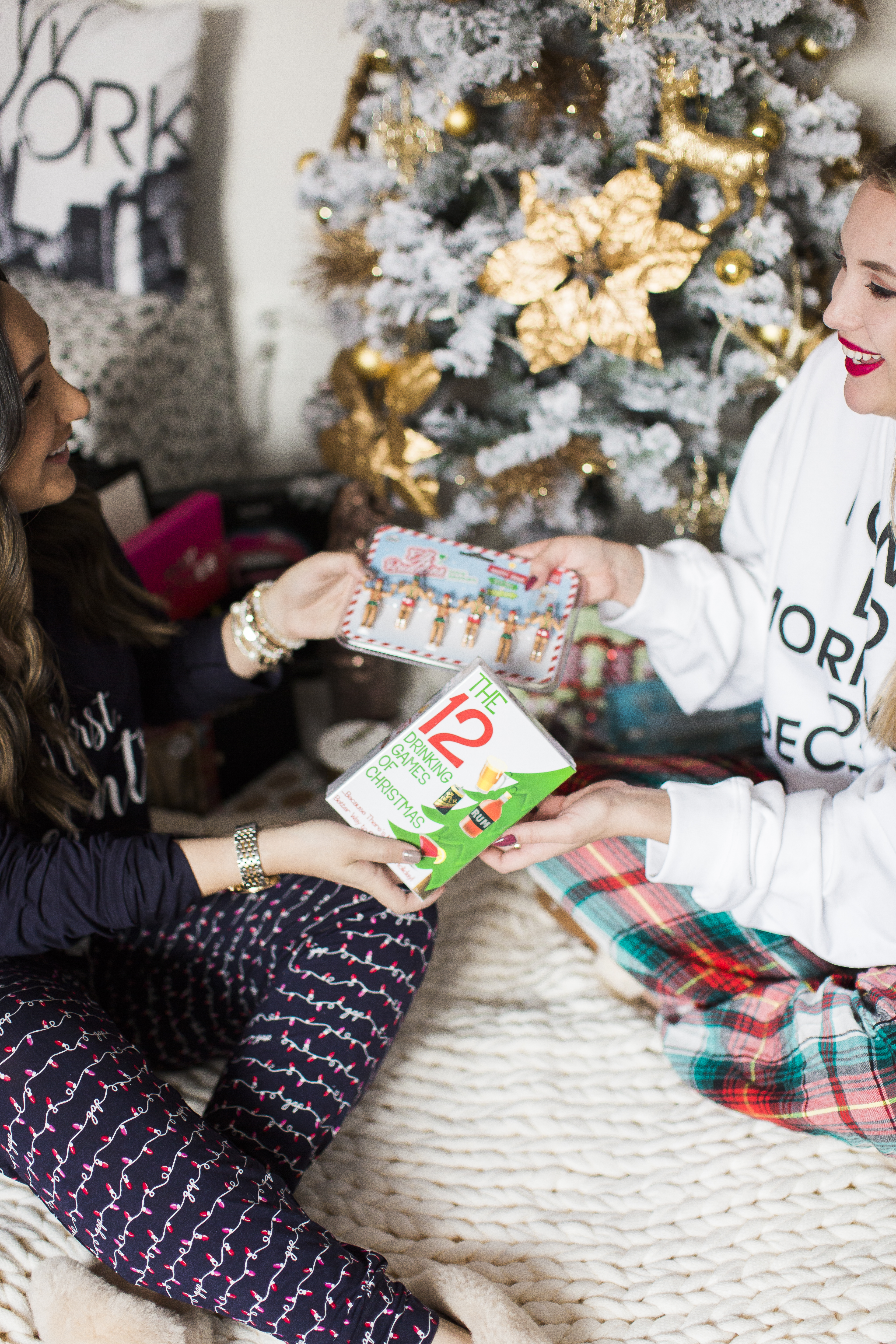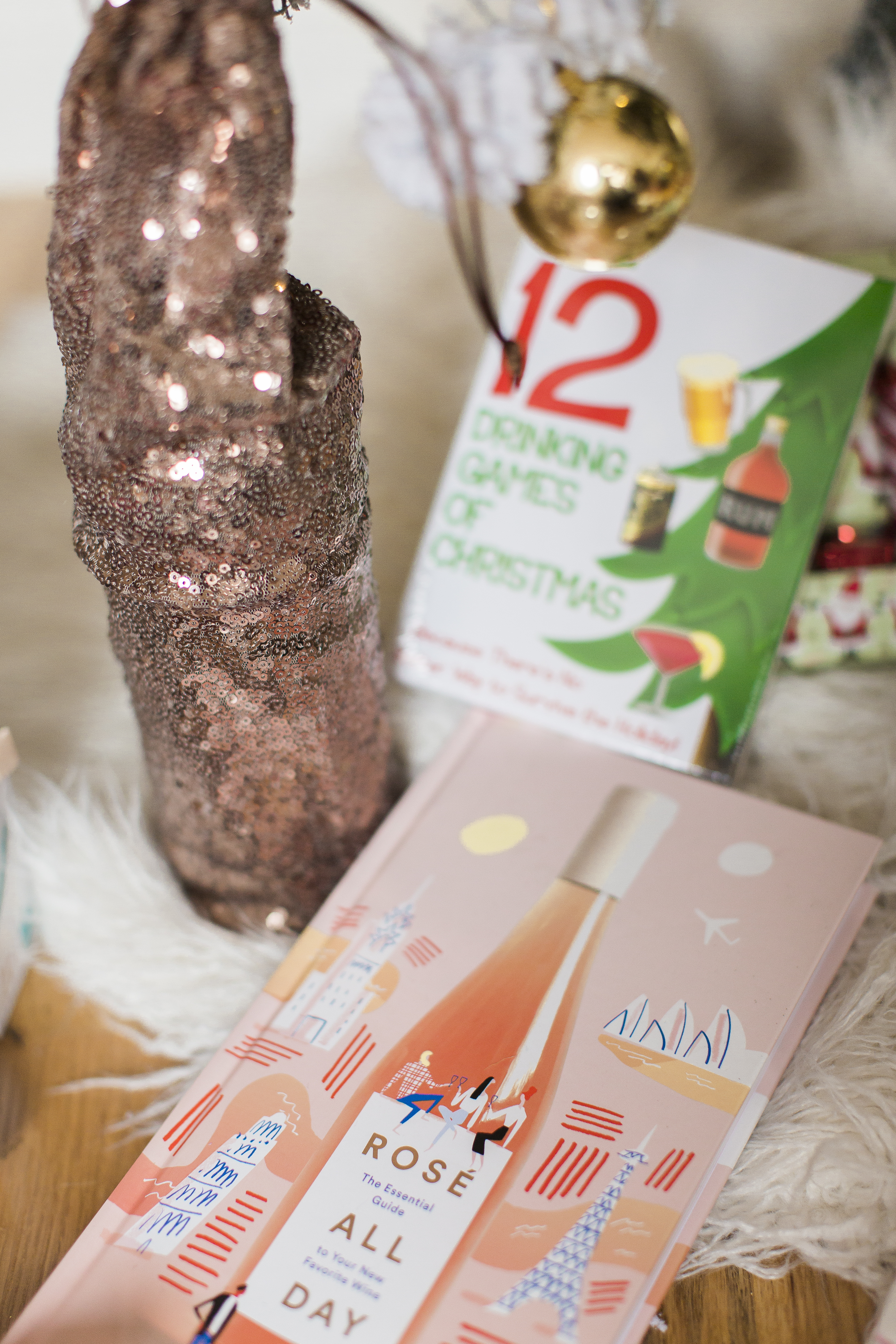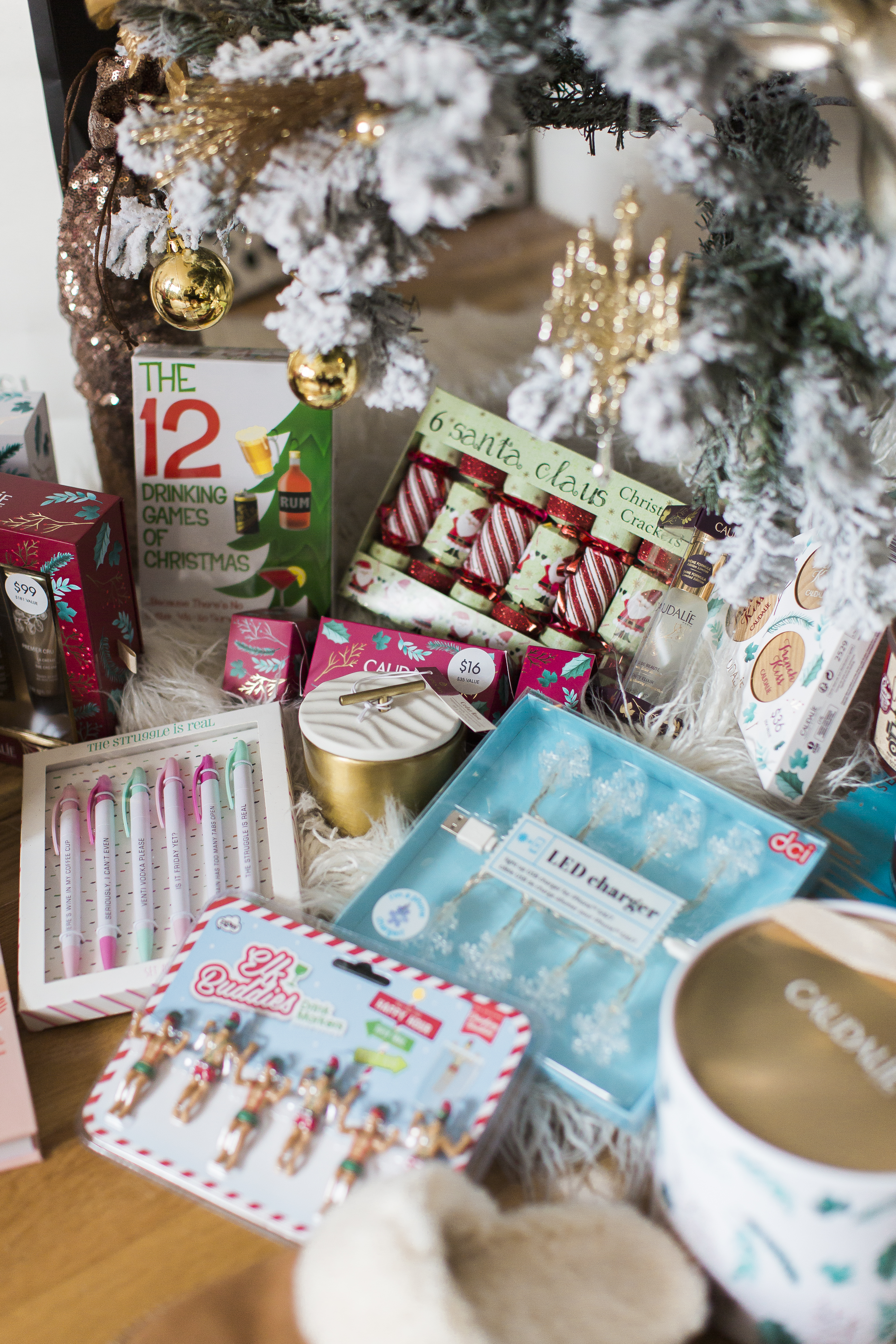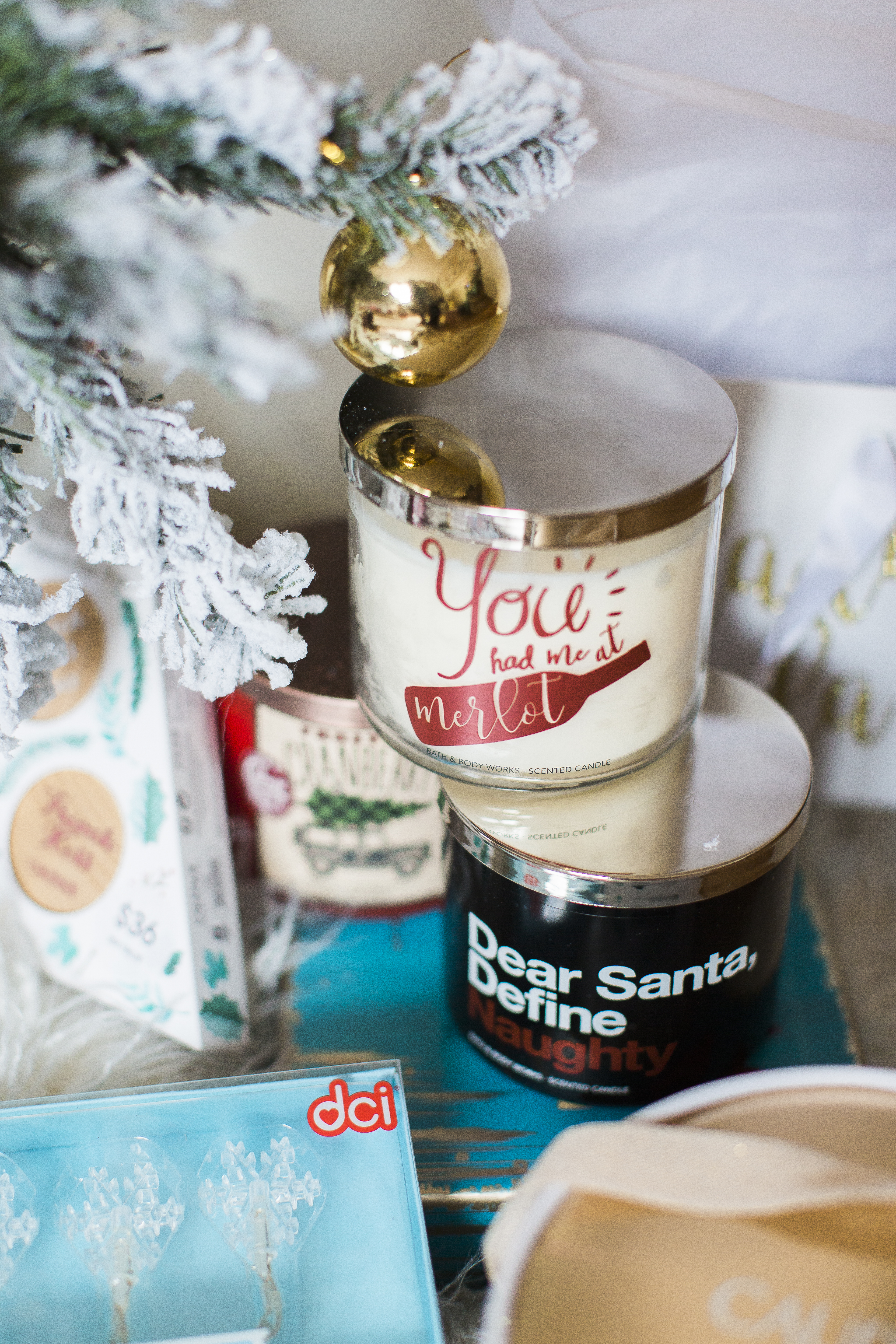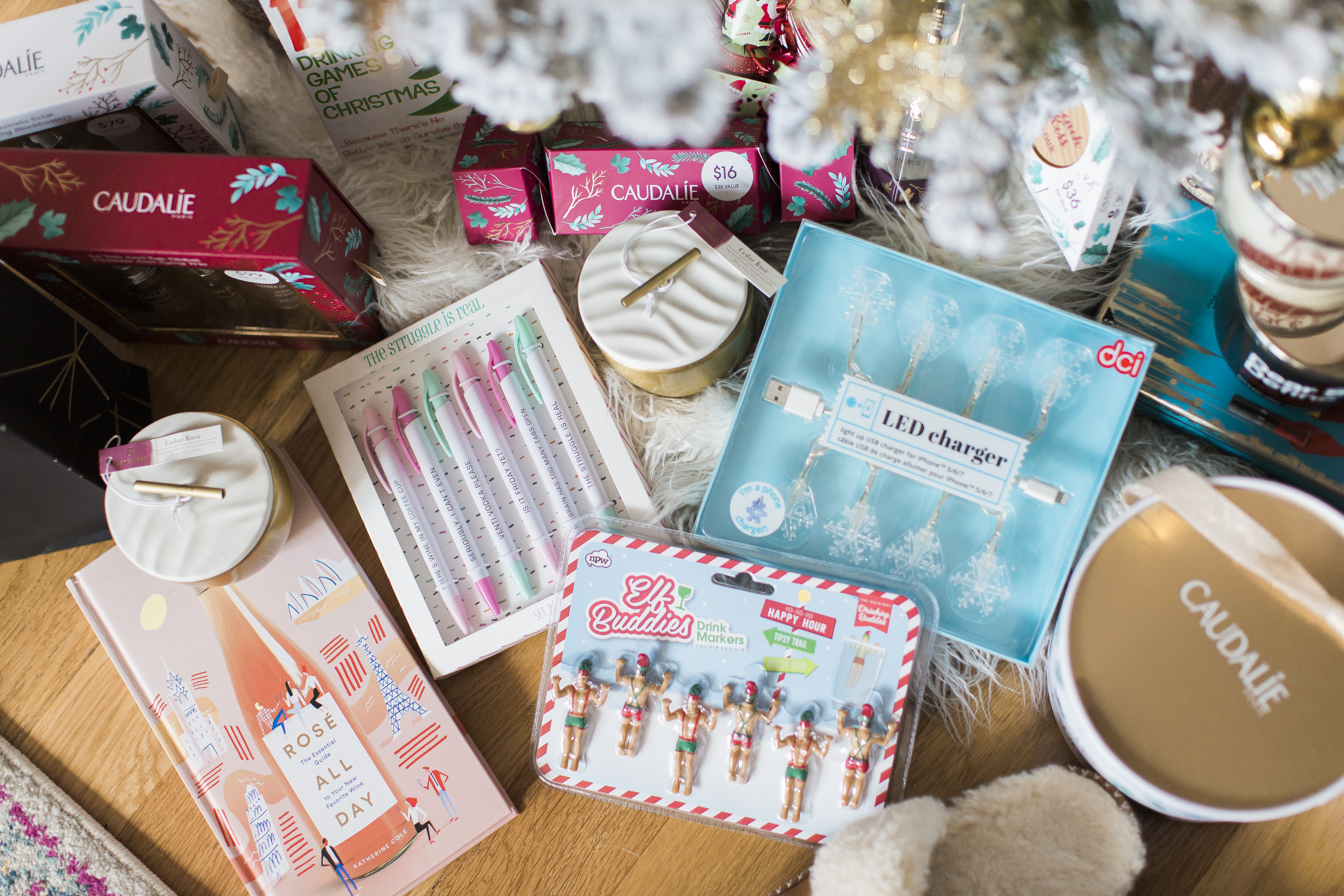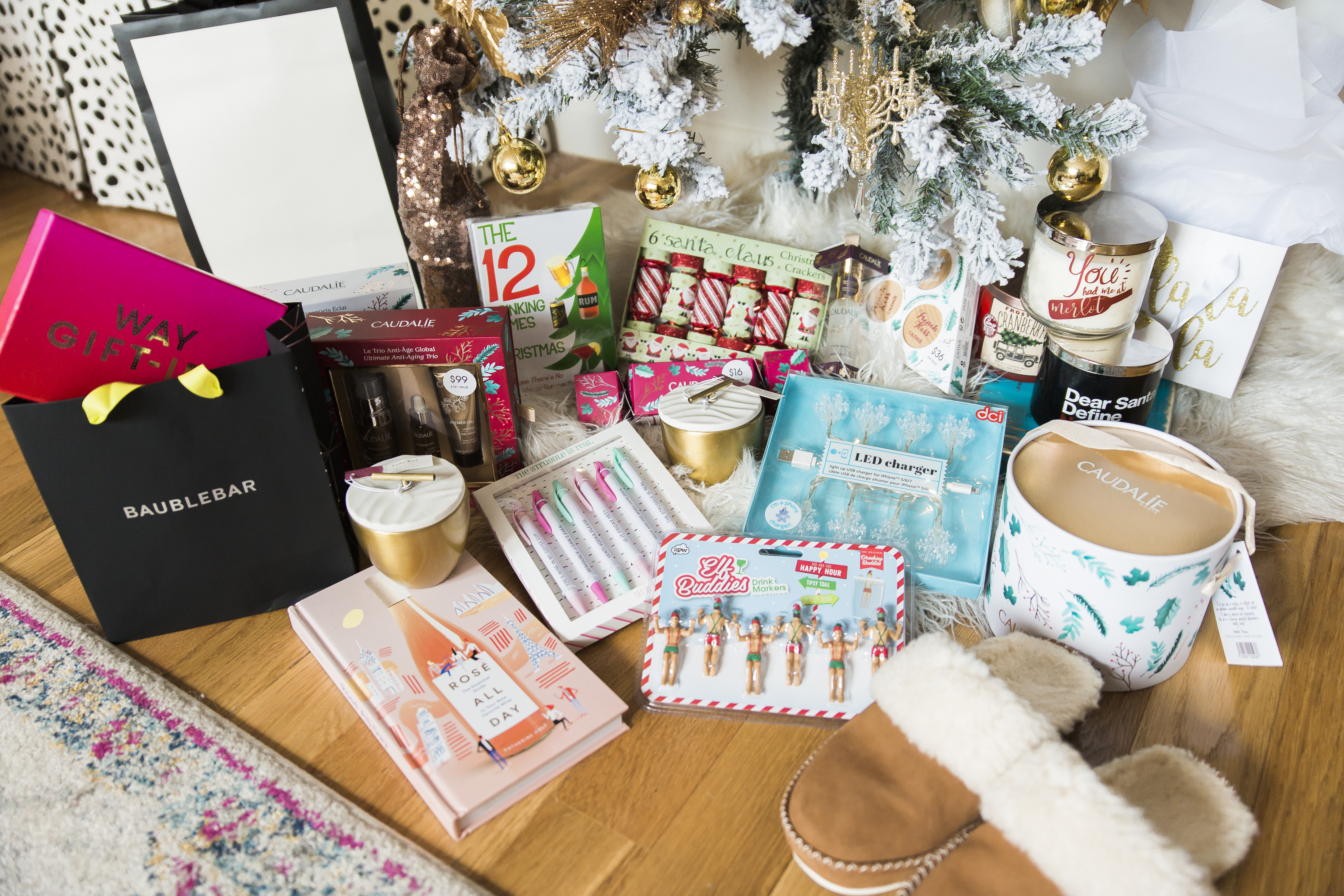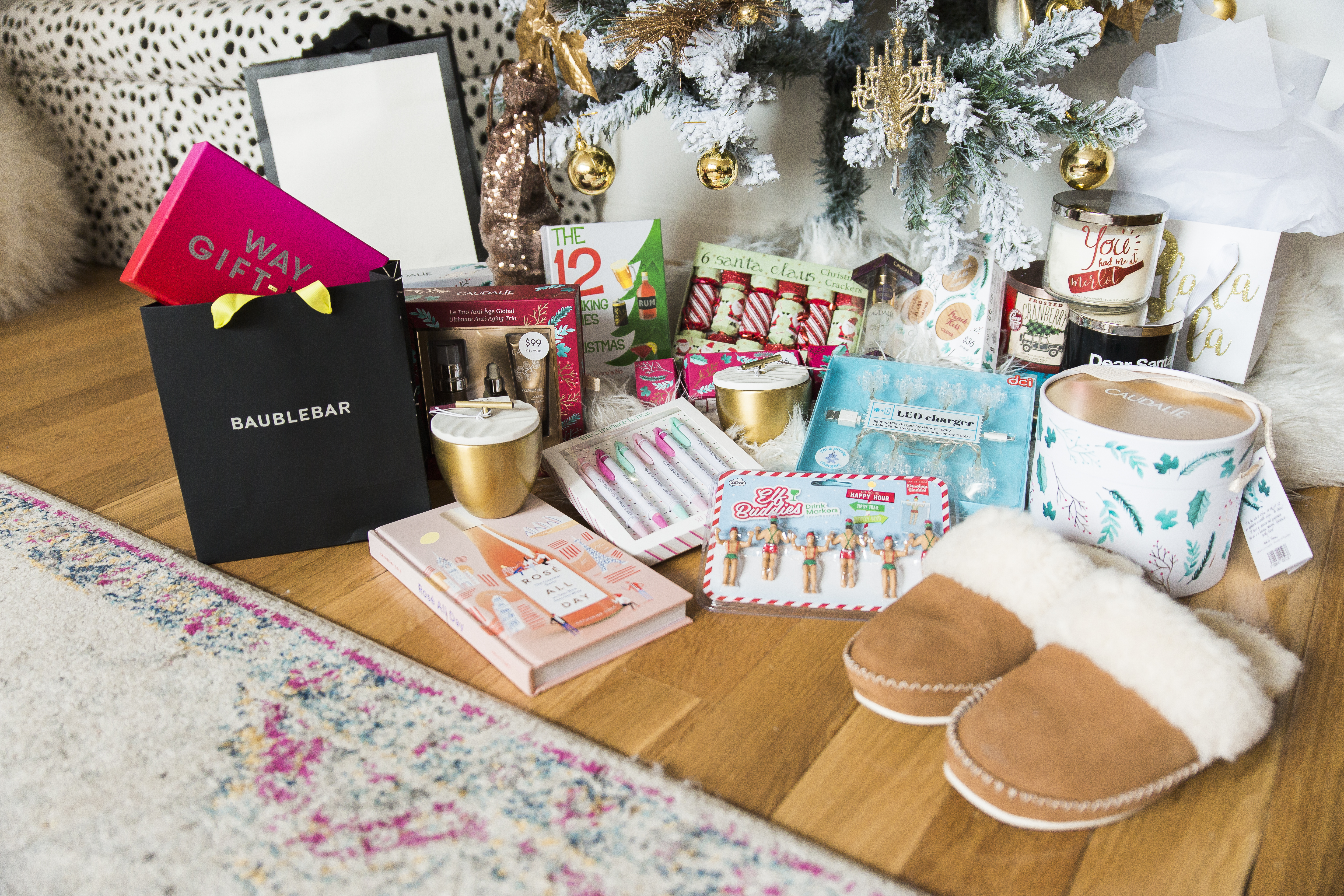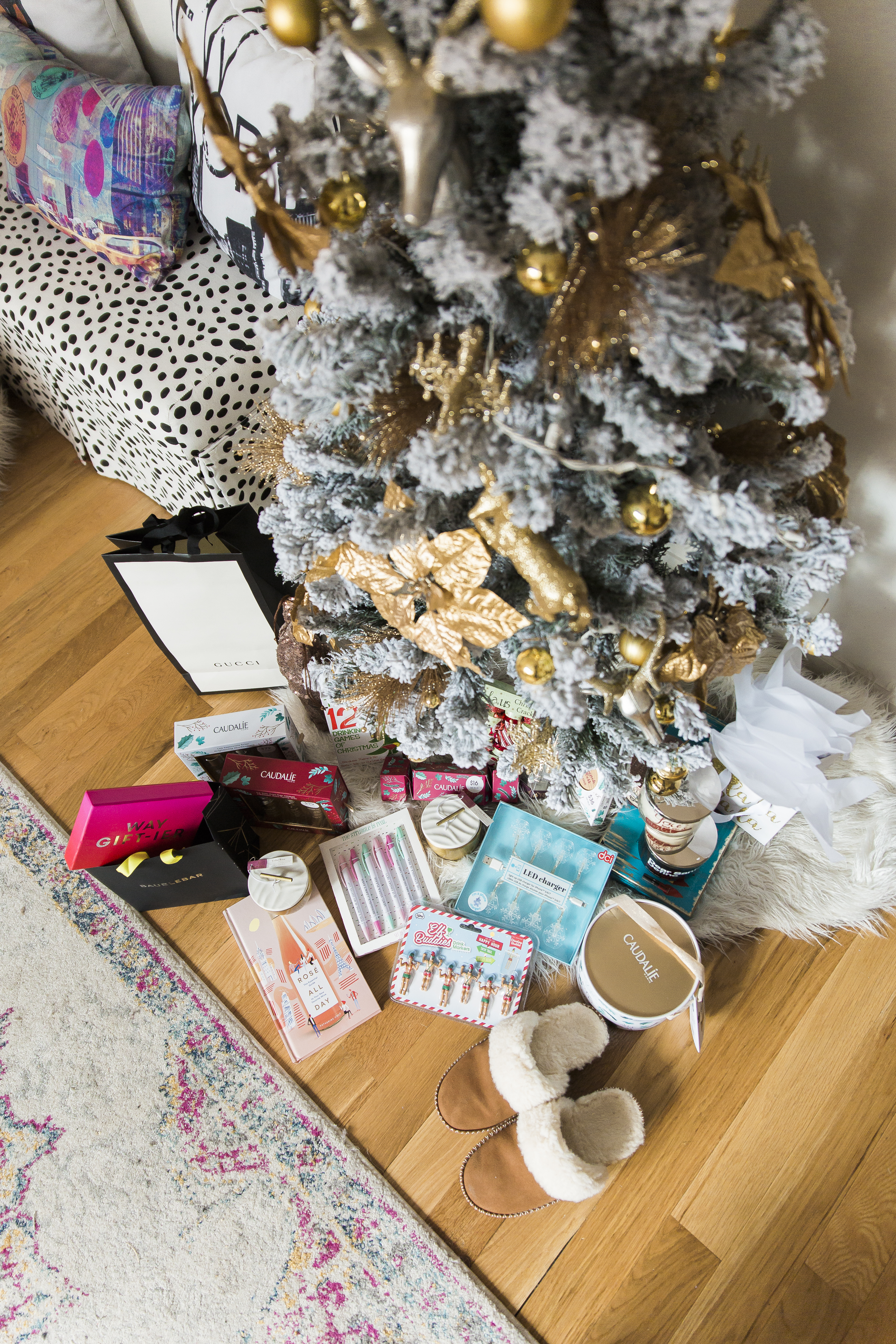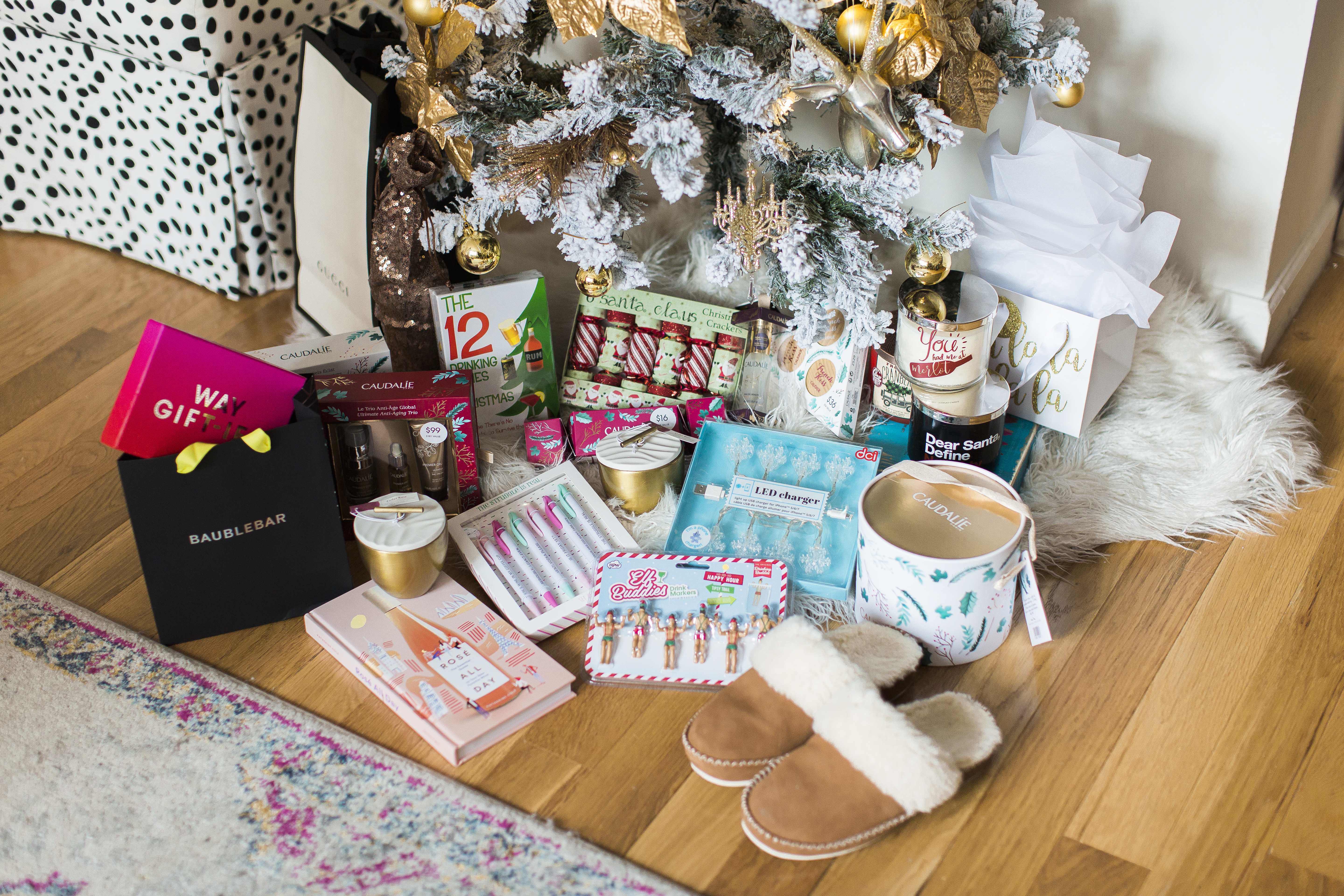 Happy Thursday y'all! I'm currently writing this post from Texas, and it couldn't feel better than it does! I'm on a two-week break and I am just so excited I can't contain it. I plan to post a ton of blog content, share more to social and hopefully engage with you all more. It's been such a busy time that I haven't hardly been able to keep my head on straight!
Today I'm excited to share a few gifts that are perfect stocking stuffers, gifts for friends or family members that you can still snag in time for Christmas! These were so much fun to shoot. Actually mid-shoot, a bottle of champagne popped itself from across the room and I don't think I've ever laughed so hard. So below are a few gift options to snag while you still can:
Francesca's – y'all, I haven't shopped at Francesca's since high school probably, but they have SO many cute gift options for twenty-somethings! We got these hunky men drink markers from there, Santa Poppers, 12 Days of Drinking Games, struggle bus pens and Rose Book from Francesca's. I also snagged this Snowflake LED Phone Charging Cable and I think I'm going to use it year-round to confuse people, it's so fun because it's lights up when you plug it in! If you're a real last minute gifter, they have adorable sequined wine bags that make the perfect accent all year long!
Ultak – Ever since I started working in beauty I've become a big fan of Ulta. They have great sales, prices, EXCLUSIVES, and nearly every beauty brand. They just opened a new one in Manhattan and it's magical. You can grab this NYX Professional Makeup Lippie Countdown Advent Calendar there with 24 lipsticks on sale with an additional $10 off!
Caudalie – I had never tried Caudalie until Lauren started working there, but they have so many insanely great gift sets. If you're looking to get the most bang for your buck, I recommend looking into Caudalie. I've been loving the French Kiss Trio and Beauty Elixir, but also recommend grabbing the Brightening Blockbusters, Divine Body Holiday Set and Vinosource Holiday Cracker Moisturizing Set (a MUST for dry skin!).
Baublebar – Baublebar has always been one of my favorites for gifting friends. Their gift sets are such a bargain, and you can either give them as a whole or break up each piece and gift individuals separately. They have everything from tassel earrings to studs and layered necklaces. You can snag my tassel trio here.
So there you have some places to snag some great last minute gifts at an affordable price! What are y'all shopping for this season? Have a great day and thanks for reading!
Photos by Caitee Smith.