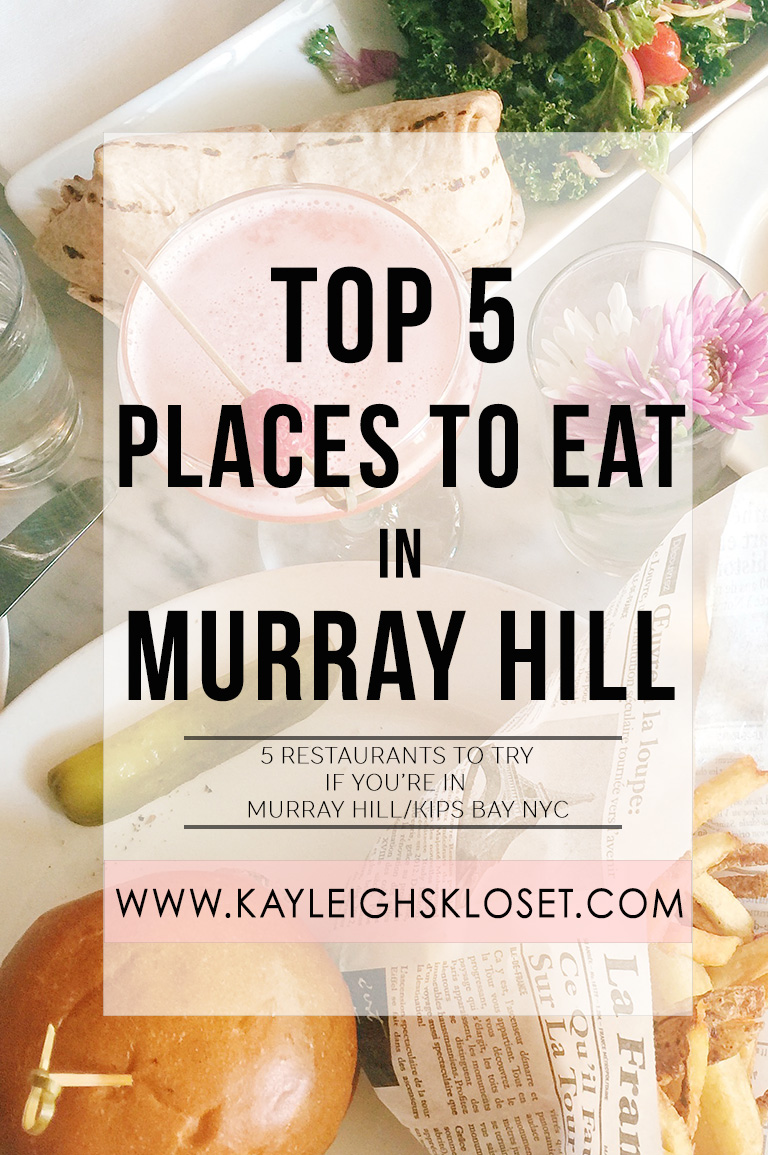 Happy Friday y'all and happy weekend! Don't you just love saying that sentence?! I'm so excited to do a bunch of touristing with a friend coming in town, and am hoping the weather stays as beautiful as it's been this entire week. I seriously love spring, like a lot.
Today I'm kicking off another "Top 5" in the big apple by sharing something I know very, very, VERY well: Top 5 Places to Eat in Murray Hill. For those who don't know, Kips Bay and Murray Hill are basically one in the same. Kips Bay begins at 23rd street (on the East Side of course), and goes until 34th street, whereas Murray Hill starts at 34th street and ends at 40th street. My biggest pet peeve is when someone calls it "Midtown East" because midtown is more so the streets in the 50's. One big thing I stand by is if you get the geotag on snapchat, you probably live there. Because the two are so close together and I eat in the neighborhood all of the time, I wanted to lump them as one and share which spots I hit up most frequently and which I would recommend. Enjoy!
1. Whitman and Bloom. I'm lucky if I can go a whole week without eating here. Whitman and Bloom is one of my most frequented places, especially for a weeknight dinner. They have small plates, perfect during their happy hour times or if you want to sit at the bar. On Thursdays they do live music and the downstairs gets a little rowdy, but they have a long happy hour from like 12:00PM-8:00PM. I highly recommend the tuna tacos, pumpkin gnocchi or tuna burger all paired with a glass of Malbec or the Molly's Mule. Fun fact: they're also on seamless so you can get it delivered straight to your doorstep!
2. Ruby's. Ruby's is like this chic little cafe that someone took from Nolita and plopped in the heart of Murray Hill. They use a ton of local ingredients, and I first found them on Instagram with drool worthy photos of pastas and lattes. During the summer the restaurant is super open and airy, it's almost impossible not to stop in. I definitely recommend the pesto pasta or the Farro and Haloumi salad. It's a great spot to go with your girlfriends!
3. Amber Sushi. This is one of my favorite sushi spots in the hood, especially if I'm looking to take friends. They have an amazing lunch special where you can get a soup, salad and three sushi rolls for under $20. The sushi is good, I've never had to wait long for a table, and it's decently priced for sushi. They also have deals where you can check in on Yelp and get rewards like a free dessert or drink. Their spicy salmon roll, sweet potato tempura roll and green tea ice cream is pretty hard to beat!
4. Cask. Cask is actually a sister restaurant of Whitman and Bloom, go figure. It's a similar intimate atmosphere, but Cask has a larger seating area. It's mainly upscale pub food, but it's a great spot for date night or a night out with girlfriends. The kale caesar salad is a great starter, andI got the chicken pot pie. I have been on a chicken pot pie kick ever since! It's great home-style cooking with an upscale twist. It's definitely worth the calories- so good!
5. Coppola's. This is a spot my mom and I went after we had finally finished moving in almost a year ago. It's a quaint little italian restaurant that serves you bruschetta as soon as you sit down. They have tons of homemade pastas, different iconic italian dishes, and some great desserts. I order them on seamless all of the time, and I'm never disappointed. My absolute favorite thing though is their chocolate chip cheesecake. I could eat the entire cake! Something about the graham cracker crust has me hooked, definitely a must try.