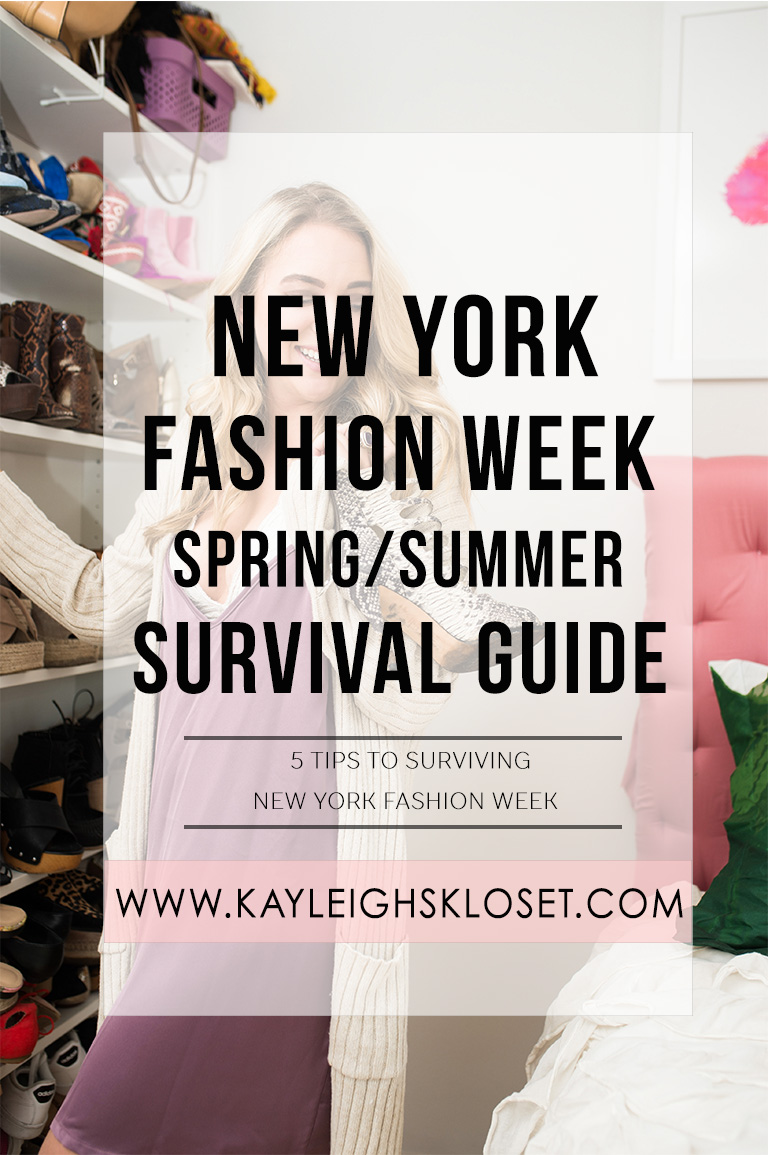 Happy Wednesday y'all! I'm excited for today's post because I'm sharing five pieces of advice to get you through New York Fashion Week successfully and with your sanity! I attended NYFW about three times and college, and off and on twice since I moved to New York. While it's a great experience that I cherish the friendships and memories made from it, I must say I don't mind sitting out and focusing on work instead of rushing to show after show (it really is a lot more stressful than it seems!). Personally, it drives me a little crazy to see what NYFW has become since blogging has started to become more mainstream. Fashion Week is great and amazing, but today it's nowhere near what it used to be like when it was at Lincoln Center. With that being said, I rounded up five of my personal tips to help you get through fashion week in New York City:
1. Be practical with your outfit choices. NYC is such a different kind of heat since most places don't crank the AC indoors, and I can barely make it half way through my 20 minute walk to work without sweating and that's in a tank dress and loafers. If you're thinking that you should be busting out your fur coat and stilettos since it's September in NYC, you're surely mistaken. While the exotic street style outfits that are all over Vogue and Harper's are great to look at, if you know you can't function when you're uncomfortable then opt for sticking to minimalistic. You'll even notice some of NYC's chic elite will roll up to their first row seat in jeans and a cropped tee. Also in reality, most people don't change outfits for every show. Most editors are squeezing in shows between their usual 9-5 craziness, so if you don't have 7 outfit changes a day it's okay! Best piece of advice? Pack a pair of sandals in your purse to change out of your heels when traveling from events.
2. Plan travel time accordingly. While everyone loves being able to go to all of the shows, parties, presentations, etc you have to take into account what's actually feasible. If you have a show at Hudson Yards, and then a presentation on the Upper East Side and you only have 30 minutes for travel time there's a chance you may not make it. Traffic in NYC is AWFUL, especially if you're going across town. Shows usually last 20-30 minutes max, but they rarely start on time. It's something to definitely keep in mind!
3. It's better to decline an invitation than it is to accept and no-show. This comes from my backend working in fashion PR for a year. If you accept and no-show, there are different ways that a company is able to see that and that may result in you getting banned from their media list altogether depending on the company. Not to mention if it's a smaller event like a dinner or private viewing, the limited guest list is more obvious. People really take offense to these things because they work so hard to ensure their event is a great success for their client!
4. Take advantage of meeting blogger/Instagram friends and brands you may or may not have worked with. One of my favorite memories from NYFW was connecting with fellow Houston and Oklahoma bloggers while I was in college, and going to Bauble Bar's show room (now near my apartment) and cultivating that relationship! I used to go to the rewardStyle party by myself and I am so awkward in those situations, I would kick myself for not saying hi or introducing myself to some of my favorite bloggers when they were just two feet away from me! The worst thing that can happen? They aren't the exact same as they were in your head based off of their highlight reel on Instagram.
5. Have FUN while you're in NYC. This part can drive me absolutely insane, and maybe it's because I started attending NYFW as a college kid who spent summers interning in the city and not as a full time blogger. How often are you in New York City? Would it really kill you to leave a presentation early and go walk the highline between your shows, or catch dinner at a place like Tavern on the Green? NYC has so much to offer during this week other than fashion and I think it's completely okay to take a step back and remember that this is a trip for you too! I somehow found a way to balance my shows, presentations/parties, and going out to my favorite bars from my internships, see my old bosses and make new friends. It really is possible!
I hope these tips help you have a successful fashion week! I've definitely lived and learned my fair share, the sandals idea in your purse is so key! What do y'all think? Have a great day and thanks for reading!
Shop my NYFW Outfits: